Welcome to Brimfield's Heart-O-The-Mart!
2018 Opening Days are:
May 9th
July 11th
September 5th
Call Pam at: (413) 245-9556 for details.
Hope to see you there…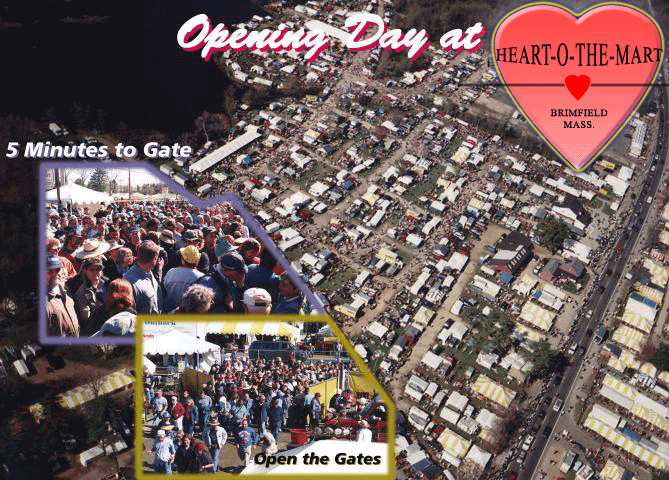 We're into our 25th year online and going strong. Thanks for all the feedback you've been sending – we've implemented a number of your suggestions, and will continue to do so, so Keep it coming! Thanks for your patronage – hope to see you in Brimfield!
If you're a veteran Brimfield shopper you already know about the unique excitement that Brimfield offers as 20 fields open in a well-choreographed sequence from dawn on Tuesday throughout the week; offering a bountiful and eclectic array of antiques and collectibles for both the experienced, serious shopper and the "Newbie" looking for his or her first antiquing experience.

Heart-O-The Mart's 400 quality antique and collectibles exhibitor show opens at 9 A.M. Wednesday for each of the 2018 shows.
Our 2018 dates are:
May 9th – 13th
July 11th – 15th
September 5th – 9th
Rain or Shine — No Pets Please
For a truly exciting antiquing experience, be at our gate by 8:30 A.M. opening day to join the thousands of antiquers who are prepaid and ready to go by our 9:00 A.M. opening. The exhibitors will be in a selling mood and the quality is excellent. Admission is $5.00. If you've never "done Brimfield," make 2018 the year you treat yourself to this truly unique antiquing experience!

For further information on Brimfield's Heart-O-The Mart, please contact:
Pam Moriarty
P.O. Box 26
37 Palmer Road
Brimfield, MA 01010
Phone: (413) 245-9556
Or, email us at:  info@brimfield-hotm.com
For hotel or other general information, contact either:
Quaboag Valley Chamber of Commerce
429 Main Street
Palmer, MA 01069
(413) 283-6149
Or:
Sturbridge Information Center
P.O. Box 66
Sturbridge, MA 01566
(800) 628-8379
Please send any questions/comments to Pam Moriarty
BSPA

The right to download and store or output the articles in Brimfield's Heart-O-The Mart web site is granted to users for their personal use only. Any other reproduction, by any means – mechanical or electronic – without the express written permission of Brimfield's Heart-O-The Mart is strictly prohibited.